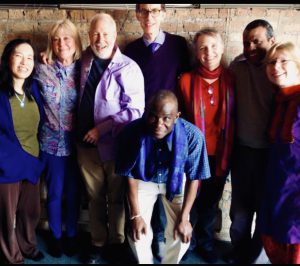 The Siddha Yoga path is a spiritual path of inner transformation based on the study and implementation of the timeless teachings of the Siddha Yoga Gurus and enlivened by the grace of Gurumayi Chidvilasananda, head of the Siddha Yoga lineage.
Just west of downtown, in the River West neighborhood, the Siddha Yoga Meditation Center in Chicago is a space open to all who wish to learn about and engage in the Siddha Yoga practices. Rooted in the wisdom of India's ancient sages, the Siddha Yoga path welcomes people of all faiths and cultures and teaches that divinity lies within each human being.
The Siddha Yoga Meditation Center in Chicago welcomes you.
PLEASE NOTE CHANGES IN HEALTH PROTOCOLS
Wearing a mask at the Center is optional and no proof of vaccination is required to attend. Masks will be available at the Center, if needed.
We recommend you bring your own cushions, blankets and chanting books.
If you are not feeling well, we urge you not to attend the Center but to stay home and take care of yourself.
Please review the Calendar page for the upcoming schedule. Registering online is helpful to the planners and is encouraged.
We are delighted to host in-person events each month and look forward to seeing you at the Center. If you have any further questions, please email us at info@siddhayogachicago.org.